The Nutcracker
December 2012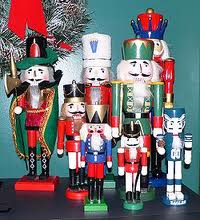 The Nutcracker and the Mouse King is a story written in 1816 by E. T. A. Hoffmann in which young Marie Stahlbaum's favourite Christmas toy, the Nutcracker, comes alive and, after defeating the evil Mouse King in battle, whisks her away to a magical kingdom populated by dolls.
In 1892, the Russian Tchaikovsky turned Alexandre Dumas père's adaptation of the story into the ballet The Nutcracker, which became one of Tchaikovsky's most famous compositions.
Karnon Kidz presented their version of the story utilising the amazing music of Tchaikovsky, from a script based on the original story by Hoffmann.
With a cast of nearly thirty children directed by Samantha Barker and Jason Lessiter with singing, dancing and a truly awesome Rat Rap, it was a wonderful way to start the Festive season.