The Tempest
by William Shakespeare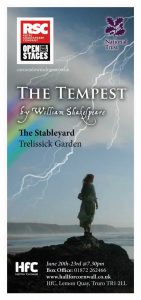 20-23 June 2012
In partnership with the National Trust (NT) and The Royal Shakespeare Company (RSC) CDDG's open air production of "The Tempest" was performed (damply) in the Courtyard of Trelissick Garden, a unique and beautiful NT property on the Fal Estuary.
CDDG explored the themes of the play from a female standpoint encouraging a shift of perspective by both actors and audience alike.
The play was visually magical, fast paced and accessible; you did not have to be a "Shakespeare specialist" to enjoy this production.