Description
Toot 'n' Come In – By Joyce Bassett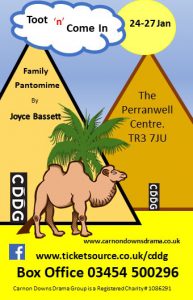 24-27 January 2019
The Perranwell Centre, Cornwall, TR3 7JU
It's panto time! School's out for summer and the kids are off on a magical adventure.
Carnon Downs Drama Group is proud to present Joyce Bassett's family pantomime, Toot 'n' Come In, an exciting adventure around the bazaars and temples of ancient Egypt.
Evening performances start at 7:30pm and matinees at 2pm.
Tickets
Tickets
£8 Standard
£6 Seniors and 16 & under
Box office 03454 500296
Online (No booking fee):
Cast
Cast
Miss Inge Bitte – Charlotte Padmore
Georgina – Lauren Northcote
Anna Bel – Abi Holmes
Charlie – Moo Burnett
Dick – Malcolm Grimsley
Sheldon – Ruby Goddard
Riddles – Millie Padmore
Artemis II – Nora De Cominges
Mr Ivor Badtemper – David Ivall
Mrs Mostofit – Linda Barker
Rattle – Miriam Loosemore
Roll – Chris Breach
Sheik Aleg – Colin Groom
Potiphar – Ann Lejeune
Pharaoh P – Mark Breach
Artemis I/Artie Facts – Martin Brett
Renee – Esther O'Bearagh
Princess Philly – Olive Hilton-Meadows
Jasmine – Mia Bossey
Pharaoh's Aide – Grace MacIndoe
Pharaoh's Servant – Jasmine Lennard
Ensemble – Lucy Padmore, Vron Spear, Ann Grimsley, Violet Blackburn, Hazel Blackburn, Klara Boehm, Luka Boehm
Photos