Description
Cinderella
21-23 February 2013
Princess Pavillion, Falmouth
This was our first outing to Princess Paviion in Falmouth and we were all very excited about performing "Cinderella", a traditional pantomime for all the family.
Those who came along joined in with all their favourite characters as this magical fairy-tale unfolded with fun and laughter.
You could only admire our youngsters as they performed to rocking music that got everyone jiggling in their seats and were amazed as the fairies work 'a kind of magic' to ensure Cinders got to the ball.
Tradition dictated a happy ending but just who would marry who? February used to be a dull month but not anymore, Panto was back in town.
Photos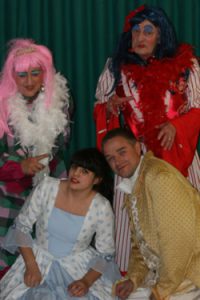 Cinderella