Neverland and Back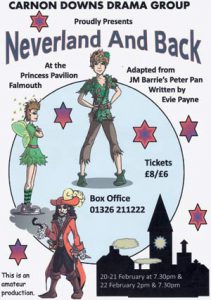 20-22 February 2014
Princess Pavillion, Falmouth
Written by Evie Payne.
Our buckles were swashed as Captain Hook and his buccaneering buffoons attempted to defeat Peter Pan once and for all.
Did man eater, Ms Croc O'Diall spoil Hook's plans?
Would a stroppy teenage Tinkerbell be bothered to sprinkle her fairy dust?
A modern script but full of traditional pantomime elements Neverland and Back provided fun for all ages.
Oh yes it did!