Jeff Wayne's Musical Version of The War of the Worlds
7-11 September 2010
No one would have believed, in the last months of 2008, that it would have been possible to stage this unique production at Trelissick Garden. No one could have dreamed that Jeff Wayne would have given permission for his iconic musical to be performed by a Cornish Amateur Dramatic Group. Few men even considered the possibility of staging such a project and yet, over the last twelve months, minds immeasurably imaginative regarded this production with creative eyes, and slowly and surely, put the show together.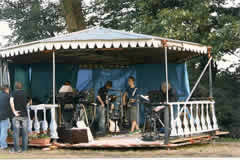 Thanks to the vision of Chris Curtis and The National Trust, Trelissick Garden was the unique venue for the premiere by a Cornish company of Jeff Wayne's musical version of 'The War of The Worlds'. The commanding panoramic views of Falmouth, the Fal estuary and the open sea coupled with the superb collection of tender and exotic plants and extensive park, woodland and riverside walks made this a day to remember.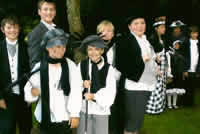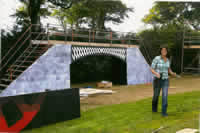 With and ensemble of over thirty actors, eight principal performers, acrobats, dancers, singers, and a Martian Fighting Machine it was an epic production. The story, based on the HG Wells novel, was acted out on the specially commissioned outdoor stage accompanied by a feast of lighting and pyrotechnics, which was enveloped by the eight piece band whose task was to bring the music to life.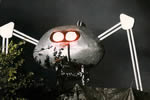 Featuring the hit singles 'Forever Autumn', 'The Eve of The War' and 'The Spirit of Man' Jeff Wayne's musical version of 'The War of The Worlds' is one of the best known albums in the world. Having recently celebrated its 30th anniversary an official tour has taken the musical to Holland, Germany, Australia, New Zealand, Ireland, the length and breadth of the UK and now – under licence to the Carnon Downs Drama Group – to Feock, near Truro, in Cornwall!